Hello bloggers, today we're going to talk about Cusco in Peru, which was the ancient capital of the Inca Empire. Read more about in our blog ! Free Walking Tour Cusco¡
The Plaza de Armas of Cuzco:
The Plaza de Armas of Cusco, was important place in the times of the Incas. This plaza was the scene of important events in the city's history, including the proclamation of Peru's independence in 1814 and was the scene of the murderer of Tupac Amaru, the first great leader of the Andean resistance. Here are the Cathedral and the Temple of the Company of Jesus, built on top of ancient Inca buildings. It is a place of celebration also in the new year where everyone gets together to celebrate the New Year, and the annual Inti Raymi festival.
Bohemio district of San Blas and the oldest church in Cuzco:
In this neighborhood is where the oldest church in Cusco is located. This neighborhood is one of the first places that the visit because, there are concentrated artisans with their workshops and shops, and it is one of the most picturesque places in the city. It has steep and narrow streets with old houses built on Hispanic Incan foundations. It has an attractive square and the oldest parish of Cuzco 1563, with a carved wooden pulpit, the highest expression of the colonial era.
The Cathedral of Cuzco: Cathedral of Cusco:
The first cathedral of Cuzco is the Church of Triumph built in 1539, built on top of the Palace of the Inca Viracocha. Today is an auxiliary chapel of the Cathedral. The Cathedral was in what was The Inca House Condor. Do not miss the jewels, masterpieces, the Cuzco school and their paintings.
Central Market of San Pedro: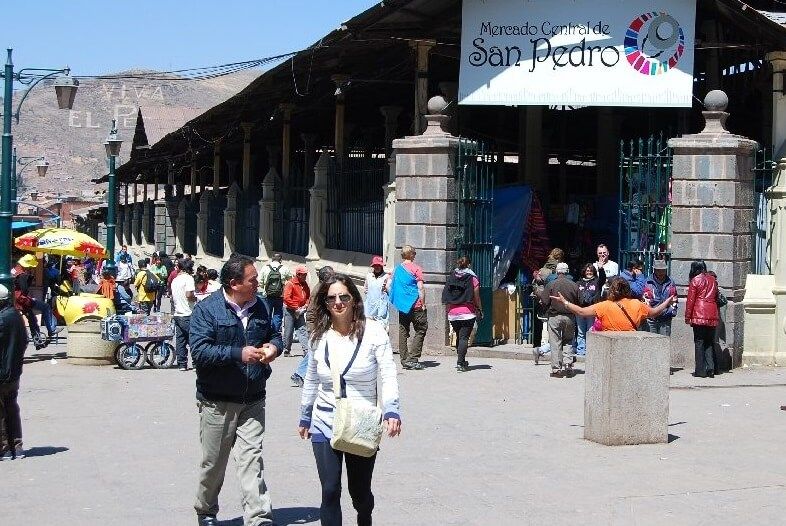 A huge internal place in which live aromas of fruits, flowers, spices, food, souvenirs, just a few blocks from the Plaza de Armas. That you can try the Cuzco cuisine, for example, chicken soup for breakfast. Do not miss this quaint market.
The 12-angle stone and the Inca wall:
It is one of the most visited by tourists in Cusco, because in the street Hatun Rumiyoq, namely the places Rocha Mayor, the Palace of Inca Roca, which took power in the fourteenth century. The building now belongs to the Archbishop's Palace. In this street, which goes from the Plaza de Armas to the San Blas neighborhood, one can appreciate the stone of twelve angles, famous for its great finishing and limited twelve angles, denoting a perfectionist Inca architecture. You will see a man dressed as an Inca emperor, where everyone takes pictures with him.
Do not forget to take, the best CITY TOUR PERU, FREE WALKING TOUR CUSCO, BY INKAN MILKY WAY.