Lima Sightseeing Tour on foot @ 11am – Best Sightseeing Lima on Foot for Free!
Don´t be a Tourist, be an Explorer! In our Lima Sightseeing Tour on foot, you will explore the city by walking with Local, Native and Licensed Tour Guides who are always keen to share the history and the Living culture of Limeños  | Make your way on your own to our meeting point stated below so that you can experience the original healthy Lima Sightseeing Tour on foot!
How about if I am in Miraflores? If you are very, very close to Calle Shell 178 Miraflores(10min away by foot), you can go there and get picked and take the Local Bus to Lima centre, plz for more info check: Lima City tour leaving from Miraflores | if this is not your case or you´re in any other district you should come to our 11am gathering point cause this is our starting point for the tour, not in Miraflores.
Details of this Free Tour in Lima, starts in Lima Centre
Mon to Sat at 11am – Be on time | No free tours on Sundays.
Jumper, Hat, Sunglasses and Water
Look for InkanMilkyWay logo-sign at the Correct Meeting Point | Don´t get confused with fake yellow vests without our Logo.
Separated Groups in English & Spanish | choose your language.
Click on the book now button and get instant confirmation | PLEASE USE WHATSAPP FOR EMERGENCY ONLY (Not for Booking).
5 reasons to walk with us:
Awesome Places we'll discover¡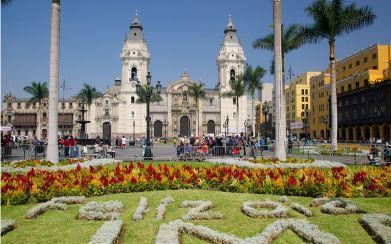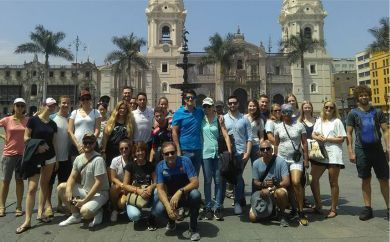 Detailed Itinerary & Ending place of the Tour
Below itinerary is subject to change depending on events like protests, festivals or tour guide`s choice!
Make a wise decision in Lima, see our awesome 500+ reviews at:
The Best
This walking tour was very informative and interesting and our guide, Richard, was great doing the tour in both English and Spanish! Well worth doing to get an overview of historic Lima
Awesome Tours in Lima
completed the Free Walking Tours Lima and Ricardo was a VERY informative guide. He may have spoken a little quickly, but from experience; I know this is how the folk from S. America speak. I think he tried to lose me during the "Changing of the guards" at ...
Super Informative Lima Tour
We had a wonderful tour with Richard today in Lima, super informative and got to see lots of sights around downtown which we would of missed on our own. Very talented as the tour was in English and Spanish, thank you for a great 3 hours!
The Best Tour
I did the Lima free tour with Richard and I must say it was one of the best free tours I've been on. He was very knowledgeable and it avoided the usual free tour annoyances like forced stops at bad cafes. I would highly recommend!
Historia y cultura de Lima
Richard nos introdujo en la historia y arquitectura y vida social del centro histórico de Lima demostrando un gran conocimiento de la historia y la sociedad limeña. Con muchas anécdotas y amenas historias nos acompañó en este tour que nos resultó excelente. Felicitaciones!!!
Buen Tour
Buen tour. 3 horas de información interesante e historias sobre Lima y Peru que no conocíamos en muy buen inglés. Realizamos el tour con Elvis. Muy buen guía, agradable y auténtico. ¡Definitivamente vale la pena!
Beautiful tour.
Beautiful tour. Like it and will highly recommend to any one to use it. Richard our tour guide very friendly, patient and informative. He did all answers all questions from our fellow tourists.Richard very professional!Use this guy service and you will not regret it!We finished our tour with complete fulfilment.Best regards ...
Fantastic experience!
Fantastic experience! This walking tour allowed me to see "Old Lima" in a way I never would have been able to on my own. Our guide was great — super informative, very attentive, and fielded any and all of our questions. Would definitely recommend this tour (for English and Spanish speakers!). ...
Informative and Interesting Tours by Foot
This walking tour was very informative and interesting and our guide, Richard, was great doing the tour in both English and Spanish! Well worth doing to get an overview of historic Lima.