Inkan Milky Way Tours SRL. | Estabilished in 2012
InkanMilkyWay is a small local Peruvian Company that operates the best free walking tours in Peru and Paid Tours at a decent and fair price, this means our day tours, excursions and packages are Not Overpriced neither Underdelivered, the money you pay or contribute(for free tours) go in the hands of Local People.
Check out our fantastic reviews on TripAdvisor Cusco and Lima | Facebook Cusco and Lima | Google Maps Cusco and Lima
---
About The Founders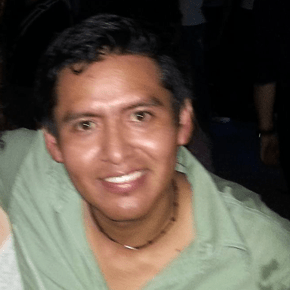 Elvis Peralta "The King"
This is Elvis "The King", Co-Founder and your Tour Guide, together with my brother Richard we started the walking tours and bespoke tours with the aim of making top quality tours.
I studied tourism and hospitality business at the college, graduated and well- experienced in this outlet, every time I do my guiding I follow one motto: Few people really dislike history, it is merely the way it's presented to you. Using my studies, my passion to my job, my experience and my willingness to do my best, I make people feeling good to great, more than offering tours I do offer emotions.
I have conducted well over 2000 tours of Cusco, having got almost 400 reviews on tripadvisor with my name, I have the city at my fingertips, ready to be shared.
I do speak well English since I have worked for many years in the USA in the hospitality business.
---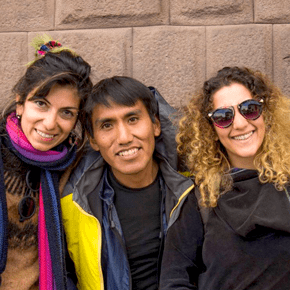 Richard Peralta "Richard The Lion Heart"
This is Richard "The Lion's heart", Co-Founder and Tour Guide, graduated from the College, specialized in history, culture and lifestyle, I am ready to share my knowledge with you.I am father of one beautiful girl, have been working for many years in hospitality business such as Hotels, Restaurants, Travel Agencies, Cruise Ships and son and so forth.
Every time I do share my time with you I bring charm, knowledge, manners and great humor to my tours and eagerly await helping to make your Cusco trip a memorable one.
I have conducted hundreds of tours of Cusco, having got almost 400 reviews on tripadvisor with my name, I have the city ready to show you.
---

We serve
We are warm, welcoming, respectful, and professional. Whether working with customers or each other, we are always creating relaxed and rejuvenating vacation experiences and lifelong memories.
We innovate
We are always thinking of new ways—large and small—to improve how we work together and delight our customers.
We respect our team
We value each other's talents, viewpoints, cultures, and contributions. We treat each other as we wish to be treated.
We are accountable
We never compromise on things that we cannot make it happen. Safety and security are our most important responsibilities apart from top quality. Our customers can trust us because we adhere to the highest ethical standards.
We do it right
We do our best so that our service is a decent one for all customers, if we fail, we fail by trying to make a good service to you BUT never by giving up.
---

Small and local is the way to go as we feel it is important not to lose touch with our city and our people.
Support responsible tourism and participate only with small, local businesses within the community.
Keep our company 100% locally and indigenous-owned
Offer a memorable and enjoyable walking tour experience.
Make the best unique private tours within Cusco city and nearby.
Educate about Incan culture and its history.
---

We offer top quality and personalized tours, no matter the type.
Those who choose to take a free walking tour are treated with the same dedication as those who choose bespoke tours.
We are recognized as the leading walking Tour Company and leading local tour agency in terms of premier service in the Cusco region.
---
We hope to build an entirely sustainable company that provides top-quality service to visitors. "Sustainable company" to us means "Green Tourism" with no pollutions
We hope to develop methods to provide indigenous society and everybody within Cusco region with opportunities for job, education and support.
---
Legal Issue of our Activity – The Tour Agency
Inkan Milky Way Tours SRL is an authorized company by the City Hall of Cusco city and The Ministry Foreign Affairs & Tourism, therefore We Do Pay Taxes, We Are Not an illegal Company.
We believe that top quality service is our goal in our tours; this can only happen if the travel agency that you are touring with accomplishes all the legal standards to operate tour in Peru.
Important: In Cusco, Lima and Arequipa, there are approximately 10,000 tour agencies, most of them are illegal, and they do not even have an office.
Legal Issue of our Activity – The Tour Guides
InkanMilkyWay is a pioneering 100% local people awned Company, our tour guides are 100% Licensed. In Peru, tour guides are required to take part in Tourism & Hospitality Career studies. After they finish the studies, the government gives them a License to be a guide. There are many phony guides in Lima and Cusco who are Not allowed to guide legally.
We assure you that your tour leader will be a Licensed Guides making your tour one of top quality.
Consider that if your tour guide is illegal, your tour will be suspended once the tourism police ask the license of your guide, and your "tour guide" will be arrested and face a trial.
Guiding tours without a License is not a fault but a crime, is punished with 6 years in prison
Travel better, Book better, Go better, join a licensed tour company and authorized real tour guides.
Our Certificates