If you are in Miraflores and don't have much time, you can sign up for our free walking tour of Miraflores, you will visit two Inca pyramids and the famous El Olivar park in the San Isidro district.
This free tour is exclusively operated by Alfredo. If you have any questions or emergencies, please contact him directly via WhatsApp. You can find his number in the More details tab.
Itinerary
Expand All
Meeting point
Huaca Pucllana pyramid — interior visit
Discover this famous pre-Hispanic temple more than 2000 years old made with adobe.
El Olivar park — exterior visit
Discover this natural park with more than 1,500 olive trees and local fauna located in the financial center of Lima: San Isidro.
Huaca Huallamarca Pyramid — exterior visit
Ending point
This free tour ends outside the Huaca Huallamarca pyramid.
Schedule/Language
| | | | |
| --- | --- | --- | --- |
| Schedule | Language | Days | Duration |
| 9:00 | English | Wednesday, Friday and Saturday | 2 h |
| 9:00 | Spanish | Wednesday, Friday and Saturday | 2 h |
We don't operate on July 28, December 25 and January 1. The duration of the tour is approx.
Meeting point
Price
It's a free tour, 100% free to book — once the tour is done, leave an awesome donation.
More details
Notes:
Guide: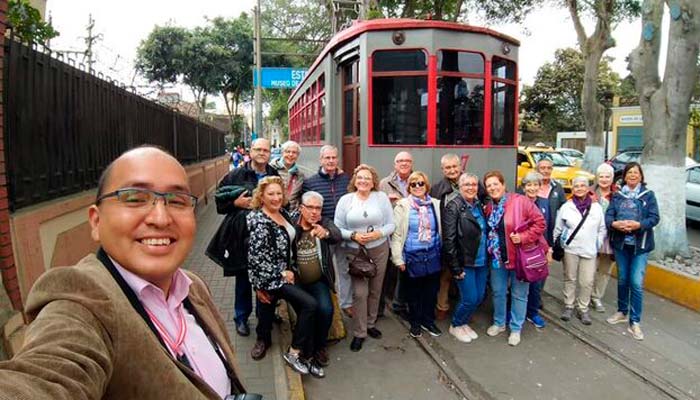 The Guide in charge of Free walking tour Miraflores: Pyramids + El Olivar is Alfredo. Any additional questions about this free tour, contact him directly by WhatsApp: +51 994 920 491
Operability & itinerary:
The itinerary of our free tour is subject to change without prior notice, due to strikes, the guide's decision, and any other event that may disrupt the normal operation of the tour.
Our guides always strive to make the route interesting.
Puntuality:
Do always arrive on time at the meeting place.
If you arrive late, your guide will not come to find you. Typically, you can call your guide on WhatsApp, but we cannot guarantee they will answer promptly, as your Guide is actively conducting the tour.
Walkers:
We require a minimum of two participants to conduct the tour.
Children: You are welcome to bring them on the free tour; however, sometimes children get bored quickly, despite our guides' best efforts. Remember, you can also book a private walking tour by contacting us at the following email:

[email protected]

.
Type: Group tours.
Size: 10 walkers approx.
Accessibility: Not suitable for people with reduced mobility.
Included: Professional and licensed Guide.
No Included:
Tips
Personalized service
What do I bring?
Sweaters
Good walking shoes
Caps or hats
Sunglasses
How do I book?
Reservations are mandatory.
You should fill up the form at least 24 hours in advance.
Please, double check your meet up times for this free tour
We don't accept last minute reservations, even though, you can technically fill up the reservation form (calendar), we are currently working hard to block last minute reservation dates. We will also soon block dates, days and times on the calendar where this free tour doesn't run.
This activity needs a minimum of 2 participants.
Fill out the form with your data entered correctly.
WhatsApp: +51 994 920 491
Cancellation: Reply the confirmation e-mail we sent you and cancel.
Please, scroll down to see reviews.