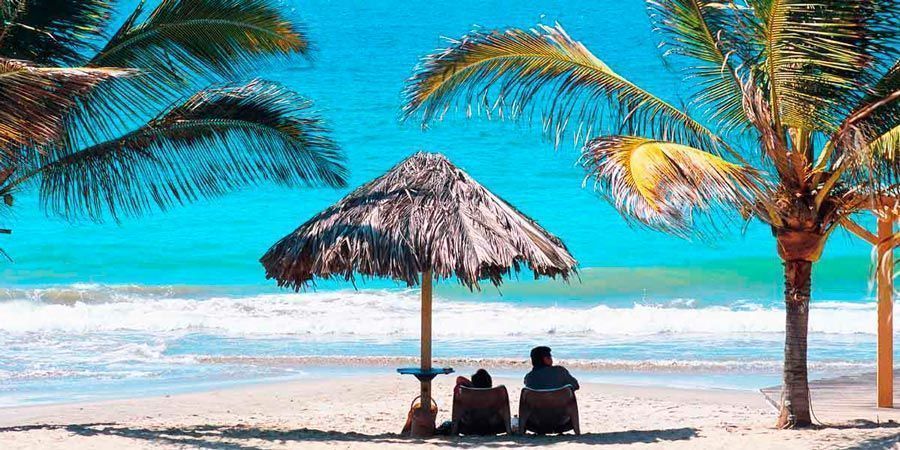 Beaches in Peru | If you are travelling across the coastline of or you are staying in Lima and Miraflores, you may want to spend unforgettable time at the most paradisiacal beaches of Peru, if you are a surfer, sportsman o you want to learn where to surf, we have the best beaches for you where you will always find awesome surfer waves and sunshine all the year, especially Peruvian beaches located in the northern part of Peru.
Beaches in Northern Peru (100% recommended for Tourists)
Mancora "The Party Beach" in northern Peru
There is no better place to overcome the fog that looms over the central and southern coast than to the north, where you can enjoy the sun 365 days a year. Máncora is one of the most popular destinations for people throughout South America (both local and travellers), as it has a lot of nightclubs, outdoor bars, restaurants and more than 30 resorts and the best beach With crystal clear waters. Mancora is definitely the best beach in Peru!
Punta Sal, "Heaven on Earth" in northern Peru
If you are travelling with your girlfriend or wife and are looking for a paradise and super romantic place, we recommend you visit "Punta Sal" located in Tumbes in the northern part of Peru, in the boundaries with Ecuador! Punta Sal has long sandy beaches with lush palm trees and captive sunsets. Do not miss this beach when you come to Peru.
In the place you will also find many activities to do such as fishing, diving and surfing, there are also spa facilities and hotels, you can visit this beach all year.
Huanchaco, "A Beach for Surfers" in northern Peru
If you are a professional or amateur athlete expecting to find the best waves, and then go to Mancora, there is no better beach in Peru to go with your surfboard. Surfers say the waves are better during the months in between April and October, as they are consistent.
If you would like to learn to surf, you will also find many schools that give lessons at a good price; Huanchaco is a beach located in the Libertad region.
Tortugas Beach in northern Peru
30 minutes from Casma in the region of Ancash, Las Tortugas Beaches have transparent and calm waters that are perfect for marine activities such as swimming, fishing, diving, yacht ride and underwater hunting. The place has good restaurants and hotels that are opened 24 hours a day.
Located at km 301 of the Panamerican Highway in the north of Lima, known as the Pacific Swimming Pool, Tuquillo is a narrow and tucked inlet of sea and sand and very quiet, then the best place for family groups with kids!
Beaches in the Lima Region
Ancon Beach in Lima
If you are in the Peruvian capital, this is one of the best known and most popular beaches in this metropolis, located just over half an hour in the north of Lima, it is a modern beach resort, with a quiet sea to practice sailing sports. You can also take a boardwalk on the cliff of Ancon where you will see old wooden houses from the 50s and modern and luxurious ones, there are also delicious Peruvian food restaurants and if you would love staying at this place, you can do! there are many lodgings.
Miraflores Beach in Lima – Costa Verde
The district of Miraflores has an important set of beaches that are integrated into what is known as the Circuit of Beaches of the Costa Verde, this set of beaches are characterized by presenting a calm and clean sea, they are usually crowded especially in summer(dec-mar), there are also many athletes practising mainly surfing. You will also find very good restaurants like La Rosa Náutica. Access to these beaches can be done by the Malecon Balta (if you are in Miraflores), you can reach these beaches by the Bajada de Baños(if you are in Barranco)! Learn more about Lima and Miraflores with Free Walking Tour of Lima, you can also see our comments on the free tour. You can also see our awesome free tour Lima reviews on TripAdvisor.
Just half an hour south of Lima, there is a beach with clear waters and thick sand. The bay keeps big waves with peaks that run both right and left that will allow you to swim or do some water sport.
This beach is located one hour away from Lima, it is one of the favourite places for surfers, and waves are formed all year around with left and right peaks, large and strong, with tubular sections, which can pass 4 meters, but also waves for beginners. The waters are cold (if you look hot waters you need to go to the beaches located in the northern part of Peru), La Punta Rocas beach is sandy and has small rocks. It is the place chosen for the national and international table championships and rock concerts. There are good restaurants and various services.
Beaches in the South of Lima
Punta Hermosa Beach
The Punta Hermosa beach is located at about an hour away from Lima, it is a heavenly place. It was one of the first beaches in the south of Lima with all the facilities. It is the birthplace and home of great professionals of the surfboard (We mean in the South of Peru). It has three beaches and a small island in front. It is very frequented by Lima people who seek to relax on the beach. It has hotels and restaurants, bars, spas, etc.
Beaches of Asia, The Best Beach in Southern Peru
Located at km 97 of the Panamericana Sur (highway), the district of Asia has become one of the most exclusive beaches in southern Lima with luxurious vacation houses under the concept of private beach. The boulevard of Asia has shopping centres, clothing stores of renowned designers, the best restaurants, as well as a wide range of discos and pubs. In the summer months (dec-mar), this beach is used for important fashion events, shows, sports championships, concerts, among others.